Middle Fork Willamette River & McKenzie River still Producing Late-Arriving Spring Chinook
Wes Connected with Numerous Late-Run Spring Chinook
Over the past 10 days we have had great luck finding some quality Spring Chinook, mostly of  hatchery origin.  To our delight, all the fish retained had nice orange meat.  Back-bouncing baits, running baits behind divers, and even plugs all produced strikes.  Wes spent 2 days of his vacation successfully chasing after big fish and then also did a day of fly fishing for Rainbow Trout on the very scenic upper McKenzie River with his son Wes Jr. and grandson Taylor also joining in on the fun.  It was great to watch all three generations interacting and making special memories.  I must admit that 7 year-old Taylor was a great sport and handled quite a bit of teasing masterfully .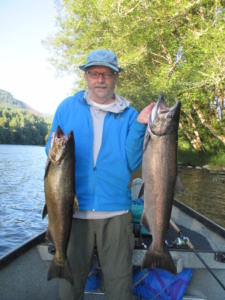 Lady Luck Brings Forth an Early Morning Limit
There is always appreciation and celebration when you hit the take out ramp at 9:00 am with 4 nice fish and  both fishermen tagged out!  "Oh shucks, now we got to process fish."  Again, all four fish cut really nice will make wonderful table-fare fresh off the barbie.  Rich in Omega 3s, fresh succulent Spring Chinook is truly a Northwest delicacy to be cherished and enjoyed!  Looking into my crystal ball, I see some mouth watering salmon barbecues at Garry & Bonnie's house this summer.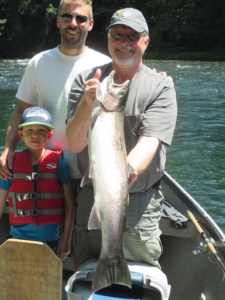 A Surprise Steelhead comes to the Net!
The boys were shocked to find out we had been fighting a large 36″ long Summer-Run Steelhead rather than the salmon we were actually targeting.  Though the fish surfaced several times way out in the distance, it wasn't until we actually got the fish right up next to the boat just prior to netting that we realized our good fortune.  With less than 2000 total summer steelhead in the entire Willamette System this season, catching one here is almost like winning the lottery.