HAPPY NEW YEAR!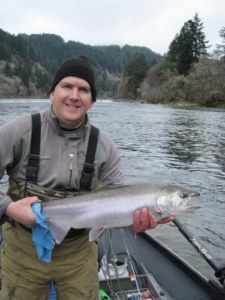 Dear Fishermen, Browsers and Viewers-
Allow me a moment to wish you all a New Year filled with shared joy, adventure, great health and abundance …….. and perhaps a limit or two somewhere along the way. Our recent trip down the Main Umpqua River certainly substantiated all stories that the Lower Umpqua is loaded with cooperative chrome bright winter steelhead. While fish were being taken on a variety of methods, side drifting yarnballs certainly appeared among the most productive ways to tangle with chrome. We did observe one group of anglers holding a very popular slot enjoying repeated hook-ups while fishing "old school style" – dredging the structure with heavy pencil lead and baits. While I spoke to a friend who had hit 9 fish one day the previous week, all on plugs, it was very apparent that side-drifting yarnballs appears to be the ticket. A word of warning however: if you are seeking quiet and solitude, you will want to avoid, at all costs, the drift from Sawyers Rapid on down. Even on a weekday, the constant hum of kicker motors and the ever-present wakes from the motorized drift boats and sleds alike slamming your hull, will certainly rob you of any opportunity for tranquility. While the majority of the boats try to courtiously time their repeated return up the runs to make successive passes, there are always a few boats that plow right through the center of the fish holding water, seemingly oblivious to the next boat fishing on through. There was actually one young oarsman side-drifter who hit our boat several times in his zeal to cover every square inch rather than leave a modest space between boats. It's so easy to get caught up in the fever of a hot bite. We all need to make an effort to control the surging adrenaline and excessive testoterone that can be blind us to the need for respect and common courtesy to those with whom we share the waters.
For folks seeking a little less boat pressure, possible alternatives to the Umpqua might include the lower stretches of the Siuslaw, Siletz, and S.F. Coquille. Wishing you all a safe and great year on the water.
John