Had a Very Fun & Relaxing Day Lake Fishing for Trout near Eugene, Oregon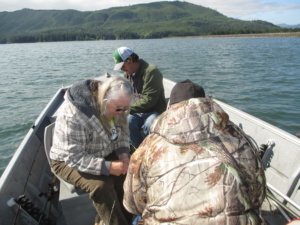 We have numerous local Lakes in the Eugene-Springfield area, all of which have good trout fishing. We can comfortably accommodate as many as 4 guests in the Jet Boat on these lake fishing trips. The close attention of my guests in preparing their rigs certainly paid off in fish!  On some lakes we cast lures while on other lakes it's a troll fishery.  Some of the lakes are less than an hour drive from the Eugene -Springfield area.  Among the local favorites are Dexter and Lookout Point Reservoir and also Fall Creek and Hills Creek Reservoir.  Cottage Grove and Dorena Reservoir are other close-by options for folks looking to chase after Bass as well as trout.  Driving further east into the Cascades we find even more lake fishing options well known for their intrinsic beauty.  Lakes such as Odell, Wickiup and Crane Prarie can offer fishing  for other species of fish besides the ubiquitous Rainbow Trout.  Several bodies of water even feature Kokanee, the land-locked Sockeye Salmon known for their bright orange meat and delicious table fare.
Meanwhile, we also have excellent tro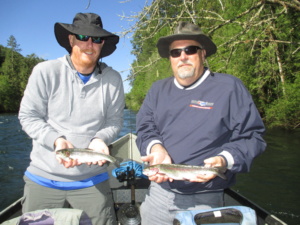 ut fishing on the McKenzie River. Two guests in the Drift Boat makes for a very fun and comfortable outing, not to mention, generally pretty darn good action.  The trout readily respond to a large variety of fishing techniques including casted spoons and spinners, drifted baits, back-tolled plugs and both wet and dry flies.  Flies are extremely popular and unbelievably effective, even for first time fly anglers.  I have no doubt that over the years, thousands of locals and visitors to the area have proudly enjoyed landing their fist trout ever taken on a fly while fishing the magical McKenzie. In addition to the wild Cutthroat Trout & Redsides (native Rainbow Trout) all which are protected and must be released, supplemental plantings of hatchery-reared Rainbows occur throughout the summer and help add to the success rate for river fishermen.  Returning home with a nice catch of hatchery pan fries makes for a nice finish to a fun day.   We hope you will consider a fun and relaxing day fishing for trout near Eugene.