Considered One Of The Best Oregon Fishing Guides

About John Gross

John Gross
Operator of Roaring Fork Guide Service
Guide and outfitter John Gross, the operator of Roaring Fork Guide Service, invites you to come enjoy an Oregon river experience. While riding the rapids in a traditional McKenzie River-style drift boat and working the riffles and pools for salmon, steelhead and trout, John's keen eye and knowledge of what, how, when and where will give you the edge in a challenge that will lead to memories for years to come.

Though fishing is often the main focus, spectacular opportunities for photography and wildlife observation do arise. Whether it's an Osprey playing cat and mouse with a Bald Eagle, or a Blacktail buck in amorous pursuit of his doe, you never know what surprise awaits around the next river bend. Regardless of whether you are considering a trip on one of Oregon's famous interior rivers, or a float on one of the many scenic coastal streams, the chance to tangle with a spunky chrome-bright beauty of one species of fish or another exists year-around.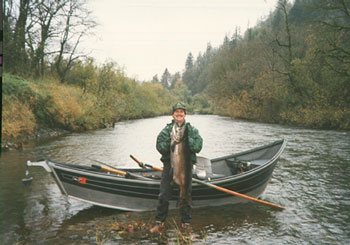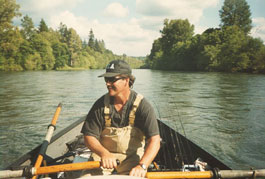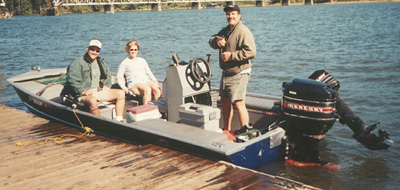 Driftboat trips are a true Oregon tradition. They offer a very intimate mode of exploring the upper-river reaches. Strength and skill are a must in safely maneuvering a driftboat through the rapids, pools and boulder patches while simultaneously providing exciting fishing opportunities. The jetboat is often the preferred craft in the open water of the larger river systems. It is particularly well suited for cruising the bays and working the tidal estuaries for newly arriving salmon fresh in from the ocean. The jet motor construction allows access in shallow, swift-running river areas not navigable with a conventional prop-boat.

Roaring Fork Guide Service will make every effort to accommodate your special needs. Although full-day trips are standard, we are occasionally able to offer 1/2 day options on several rivers during certain seasons. Two guests per boat makes for a very comfortable driftboat outing. The jet boat comfortably accommodates up to 4 guests. There is a host of different rivers to choose from. All the necessary fishing gear and tackle is provided, and the drift boat is equipped with a boat heater for chilly days
Dressing appropriately and being prepared for changes in the weather is essential. Guests will need to acquire licenses before the trip, and both fly and gear fishermen may choose to bring their own favorite outfits.

Let Roaring Fork Guide Service take some of the guessing out of the puzzle of where and how to get into some nice fish. John has been working the Oregon rivers for well over 20 years (see list of rivers where we have experience) and has guided in Alaska, Colorado and Northern California as well. See our gallery for photos of some of our happy clients. With his experience and expertise, you can successfully target the current "hot spots" at any given time.